The AKG K1000's have a somewhat of a legendary status as a unique pair of headphones. They are more like "floating" speakers than typical headphones. These are a fairly old model which was produced for a fairly long time, but it was discontinued some years ago. Many people still own these, but as all things, they do need some TLC over the years. In this post I'd like to briefly share my comments on these headphones along with some pictures to describe the work that was needed keep my pair of K1000's in proper working condition.
Over the years I've owned 2 pairs of these headphones. The first was with a lower serial number  in the 5XXX range, and the current pair which I own for quite a few years now with serial number in the 8XXX range. There was quite a bit of discussion about the sound signature being somewhat different between different serial number ranges. This is at least partially supported by actual pictures that show different driver assembly, even if the differences are limited. Personally, I was a fan of the K1000 from the first time I've heard them. They aren't "easy" headphones to own by any means. They are not very comfortable due to their structure. They leak sound in and out completely, as they are basically floating speakers hanging next to your head. They are very difficult to drive, probably the most difficult headphone to drive I've ever heard of (just 120ohm, but 79dB/mW sensitivity). They even have some quirks when it comes to sound. With that being said, if you have the right conditions for these headphones to thrive (complete silence around you while listening to music, an amplifier that can properly drive them, etc), the K1000's are just one amazing performer. To my ears, the K1000's are the most natural sounding headphones I've heard to date. This is true in tonality, sound-stage, and sound profile. I've auditioned and owned countless headphone over the years, many of which were more expensive than the K1000's. Despite this, I'm still amazed by how good the K1000's sound every time I put them over my head. Its just different to any other headphone I've ever listened to. Sure, this is only my personal opinion, but to me, that's all that matters 🙂
Nowadays, more than 3 decades after the K1000's first hit the market, there is a new headphone around that seems to build upon it, the MySphere 3. It was actually designed by the same people who originally designed the K1000's, which sounds like the right path to another winner. I'm yet to have a proper audition of these, so I can't comment on their sound, but the K1000's are still a favorite for me.
Over the past few years I've had to "repair" my current pair of K1000's twice. The first was years before starting this blog, the second was in the last few months. Therefore I've decided to share some info about it in case it might be of interest or help to other owners of the K1000's.
Lets start with the repairs. The first problem I encountered a few years ago was a sort of "rattling" sound when bass was played through the headphones at any level other than the bare minimum. I took the headphones apart (2 screws at the bottom of the driver cage + carefully opening the surround which is glued around the metal cage), and noticed the driver surround has partially come loose from the assembly housing. This one is quite easy to fix actually, carefully remove the old glue (which appears to be basic while plastic glue), and apply a thin fresh coat and let it dry before putting it all together. I decided to use a different type of glue from a local supplier which I felt would be a better fit and would hold better over the years, but even basic white plastic glue will suffice as there's limited force applied at this point.
This did the trick and the headphones sounded flawless for a few more years after that.
Than, about 6 months ago, my K1000's started once more producing some strange noises from time to time. I decided to open them up again to see what is going on inside the headphones. I though perhaps it was something that came loose, perhaps something rubbing against the wire going into the driver coil. After having a look inside, it was clear what the problem was. There is a foam plug at the back side of the driver which is probably there to offer some damping. It has deteriorated over the years, and was now both too small to fit the driver which meant it was loose and moving more than expected, and little pieces of it were falling off. This was also an explanation as to why the K1000's which I remembered as being a little shy in the bass didn't sound as bass shy as I remembered they once were.
This one isn't as easy to fix if you want to get it right. Why? simply because the thickness of the foam as well as the density were all important to get the right amount of damping. You can obviously choose to use this as a trick to modify the sound somewhat, but I wanted to get it as close as possible to the original balance. After looking through Google and Head-Fi to see if there's any reference of this, I struck gold. I found a discussion over at Head-Fi where one of the original designer of the K1000's was participating and commented on all of this:
Hello,
about the foam disk replacement:

The foam disk should be 5 to 6mm in thickness.
Made out of open bubbled foam – this is technically named "reklticulated" or in German: "Recticuliert". This is because the technology was invented by the company named RECTICELL"
It is basically a PU foam. The best is to ask for an UV stabilised type – this would be better for long lasting future! Buy darf colored faoms this will help also that UV light from Sun will not disturb it!
The technology many faom suppliers have implemented. It's nothing more or less to open all bubbles so, that the air can flow through.

The bubble typ is as mentioned 80ppi  = bubbles per inch.
This is also quite easy to count under a little microskope or strong magnifying glass when counted in one row.

To fix the foam the white glue is pretty perfect if not applied more than some little drops. "Ponal wasserfest" is very goodfor this too. However it's not so critical for this application. Just use any white glue you can get easely.

The disk should be cutted very little larger in diameter than the inner hole of the magnet system.
To cut the faom a pair of scissors is good enough – may be to cut some pieces more and use just he best rouned one you made. 

If any questions are still open, please do not hesitate to ask.

Kind regards,
Heinz
Great, now to the easy part, ordering such a foam and getting in place. Right? Well not exactly. Turns out finding this type of foam was quite difficult, especially since I only need a minimal amount of it. Luckily, after some search I found a seller on eBay (hicloneptyltd) who both carries this type of foam (although in thicker pieces) and was very nice and agreed to sale to me a smaller piece for my needs. Due to COVID-19 effects, and probably lots of bad luck, it took >5months for the package to get here.
Once it got here, repair was easy. To bring the thickness down from 15mm to 6mm I used a utility knife and held the foam flat against my bench. Then I used a 30mm paper circle I printed in advance as a template to cut the foam to shape. Cut a few extra and measure which pair has the best fit. A few drops of white plastic glue on the outside of the foam disc and push it to place.
A little word of advice if you do this, the original foam which has deteriorated over the years did leave some small pieces that fell off of it inside the driver. Gently blow on these (or use a soft Q-tip) to remove these before placing the new foam in place. I did this and was able to remove all the small foam pieces that were left behind by the original foam.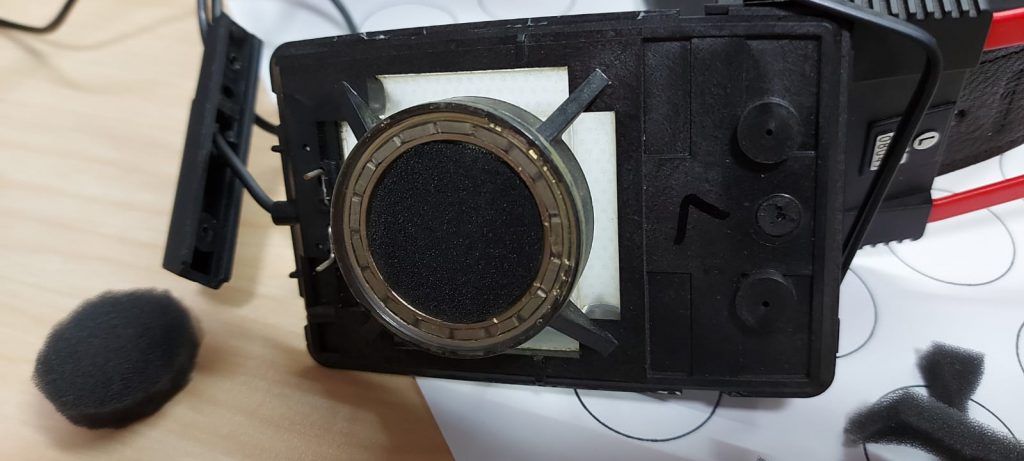 Put it all back together, and you are done. The K1000's are as good as new and should serve well for  years before they need another round 🙂